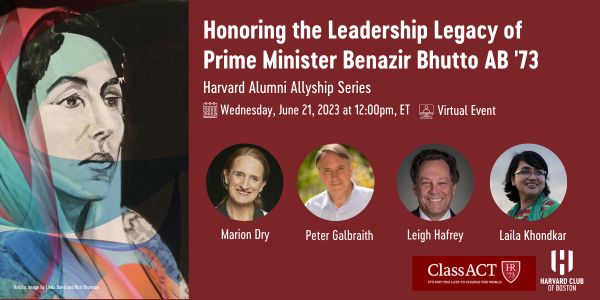 On June 21, 2023, Benazir Bhutto, the first female Prime Minister of Pakistan would be turning 70. Her life was cut short by an assassin on December 27, 2007. Benazir believed in democracy, equality for women, reconciliation of religious and cultural differences and education, without gender or religious bias and she was a beloved and admired member of the Harvard-Radcliffe Class of 1973. To honor her and promote her legacy, her classmates, through their organization, ClassACT HR73 founded the Benazir Bhutto Leadership Program which provides fellowships to support scholars enrolled in the Edward S. Mason Program (MC/MPA) of the Kennedy School of Government Program.

In this Allyship Series Forum we will honor Benazir Bhutto by exploring her legacy. Peter Gabraith AB '73, former US Ambassador to Croatia and Benazir's life-long friend and advisor will speak about Benazir's life, commitment to her people, and courage. Marion Dry AB '73 chair of ClassACT HR'73 will share the story of the creation of the Benazir Bhutto Leadership Program and its impact to date, and, Leigh Hafrey AB '73, a ClassACT board member, will speak with this year's Bhutto Fellow, Laila Khondkar of Bangladesh, about her mission, her work and her year as the Bhutto Fellow at HKS.


FEATURED SPEAKERS
About Marion Dry
Marion Dry was a founder of ClassACT HR73 when it began in 2014 and served as co-chair till 2022. She has served as the Director of ClassACT's Benazir Bhutto Leadership Program and led the development of ClassACT's Bridge program. She is the current president and chair of ClassACT and the Executive Director of the ClassACT Forums, which she created. Before devoting herself to the work of ClassACT HR73, Marion was a professional concert and opera singer who performed throughout the United States and Europe, and for 20 years, she was a member of the faculty of Wellesley College where she taught voice and opera, served as chair of the Music Department, and ran the Music Performance Program.
About Ambassador Peter Galbraith
Peter W. Galbraith AB '73 has held senior positions in the US Government and the United Nations. Galbraith served as the first US Ambassador to Croatia where he negotiated and the 1995 Erdut Agreement that ended the Croatia War. In 2000 and 2001, he served as a senior official in the UN mission in East Timor and concurrently as a cabinet minister in East Timor's first government with responsibility for negotiations on issues resulting from East Timor's independence. Currently, he is the Senior Diplomatic Fellow at the Center for Arms Control and Non-Proliferation and his most recent work focuses on the war in Syria.
About Leigh Hafrey
Leigh Hafrey is Senior Lecturer in Behavioral and Policy Sciences at the MIT Sloan School of Management. Since 1995, he has offered courses in communication, ethics, and leadership in the MBA and other graduate programs in the U.S. and abroad. He has also taught at Harvard Business School; served as co-Master of Mather House, one of the undergraduate residences in Harvard College; and for 25 years has moderated seminars in programs of the Aspen Institute, an international educational and policy studies organization focused on values-driven leadership. He serves on the boards of the Green Rural Opportunities Fund, a spin-off of the Butajira, Ethiopia-based GreenPath Food, and ClassACT HR73, an alumni initiative of the Harvard-Radcliffe Class of 1973. A former staff editor at The New York Times Book Review, Hafrey has published translations from French and German and columns, feature articles, essays, reviews, and interviews in The New York Times and other periodicals, as well as blog posts and business case studies for MIT Sloan. He is the author of two books on values and leadership, The Story of Success: Five Steps to Mastering Ethics in Business (2005) and War Stories: Fighting, Competing, Imagining, Leading (2016). Hafrey holds an A.B. in English Literature from Harvard College and a Ph.D. in Comparative Literature from Yale University.
About Laila Khondkar
Laila Khondkar is from Bangladesh. She has two decades of experience in international development. As a practitioner and researcher, she has contributed to Child Protection, Child Rights Governance, Reproductive Health, HIV/AIDS sectors. Laila has worked with Save the Children in various technical, management and leadership positions in Bangladesh, Papua New Guinea, Liberia, Australia and England. In addition to working with CARE on Program Quality, she offered consultancy support to several national and international organizations. She has conducted research on public health issues at Centre for International Development (Harvard University), Africa Centre for Health and Population Studies (South Africa), and Institute of Population and Social Research (Mahidol University, Thailand).
Laila has significant experience in working at local, national and global levels on policy and advocacy. She writes regularly on child rights and other development issues and also speaks up on child rights violations through active engagement with print and electronic media. Laila has completed MSc Control of Infectious Diseases from London School of Hygiene and Tropical Medicine and Post Graduate Diploma: Children, Youth and Development from Institute of Social Studies, the Nederlands. She is presently studying Mid-Career Master in Public Administration/Mason Fellows Program at Kennedy School of Government, Harvard University.
---
Registration is required for this complimentary event to ensure that you are provided with the log-in credentials for the Zoom webinar. You will receive the login credentials approximately 3 hours prior to your event, they will not be included in the automatic confirmation email you receive upon registration. Credentials will be sent to the email address provided upon registration.
One complimentary pass per person. Valid on June 21, 2023 only.

Registration will close approximately 24 hours prior to the event to allow for the login credentials to be shared.

This invitation is non-transferable.
When:
12:00PM - 1:00PM Wed 21 Jun 2023, Eastern timezone (4:00PM - 5:00PM BST)