Sons of the Prophet - Yale Club Event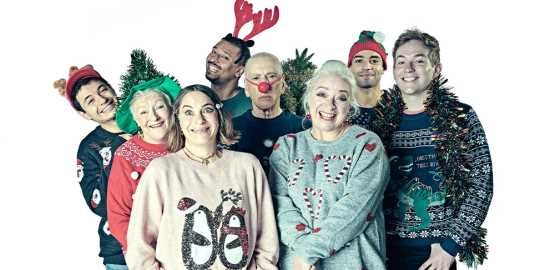 10th January 2023
6:30 pm - 10:30 pm

6:30 pm: Drinks/Networking
7:30 pm: Curtain Up
9:30 pm: Post-show Q&A

Hampstead Theatre
Eton Avenue
London NW3 3EU

Please note: E-Tickets will be distributed a day before via email.

*****
YCL Members: £39
HCUK Members: £39
*****
About the Event:
"Every family's got their stuff, right? The Douaihys have a habit of dying tragically.
We're like the Kennedys without the sex appeal."

Joseph Douaihy, a gay American Maronite Christian in rural Pennsylvania, has a pretty complicated life. When his father dies as the result of a prank, life truly spirals towards the bizarre. With unexplained pain blocking his athletics career, a desperate new boss who wants to capitalize on his grief, a dependent uncle who thinks he's his legal guardian and a very wayward younger brother, Joseph has a lot on his plate. So he really should not be spending time with the attractive journalist who's looking for the inside scoop on his father's accident….

Tony Award-winning Stephen Karam makes a highly anticipated return to the Hampstead Theatre following his multi award-winning, box office smash-hit, The Humans. Sons of the Prophet makes its European premiere having been nominated for the 2012 Pulitzer Prize and winning the Lucille Lortel Award for Outstanding Play, the New York Drama Critics' Circle Award and the Outer Critics Circle Award for Best Play, 2011-12.

There will be a Q&A after the evening's performance and a chance to meet cast member Eric Sirakian (YC'15).

About the Playwright/Director:
Stephen Karam is the Tony Award-winning author of The Humans, Sons of the Prophet and Speech & Debate. For his work he's received two Drama Critics Circle Awards, an OBIE Award and is a two-time Pulitzer Prize finalist. Stephen recently directed his first feature film, a rethought version of The Humans released in 2021. Recent honors include the inaugural Horton Foote Playwriting Award, the inaugural Sam Norkin Drama Desk Award, two Outer Critics Circle Awards, a Lucille Lortel Award, Drama League Award, and Hull-Warriner Award. Stephen teaches graduate playwriting at The New School. He is a graduate of Brown University.
Bijan Sheibani returns to Hampstead to direct; his recent credits include The Arrival (Bush), Dance Nation (Almeida), Barber Shop Chronicles and A Taste of Honey (National Theatre).

Registration:
Click here to register for this event.

Questions?
Contact: May Wu Skilbeck

Please note: Photos and other forms of recording may be taken at the event and used by the YCL website from time to time.