Online Play Viewing Opportunity
ROCKY ROAD
Written by Shaun McKenna
Directed by Steven Kunis '17
Live-streamed from the award-winning Jermyn Street Theatre
Available until 30 May
Every day at 7:30pm BST
Also 3pm BST on Saturdays and Sundays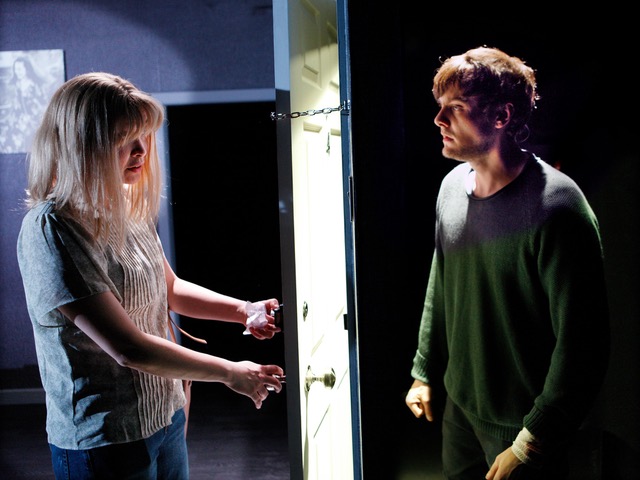 Tyger Drew-Honey and Kirsten Foster star in the world premiere of this compelling new thriller by the award-winning playwright, Shaun McKenna.
Zoe had everything to live for when her life was suddenly and violently ripped apart. Seven years later, Zoe still wants answers. A chance encounter reopens old wounds and sets her on a path that will lead either to devastation or redemption.
What exactly does her elusive, soft-spoken, butterfly-raising caretaker know? And how far will she go to find out?
Starring Tyger Drew-Honey (Outnumbered, Cuckoo) and Kirsten Foster, Shaun McKenna's compelling and timely new thriller Rocky Road is 'a riveting cat-and-mouse thriller' (The Guardian), and a gripping exploration of grief, obsession and revenge.
Director Steven Kunis '17 is a Greek-American theatre and opera director based in London. He was nominated for Best Director at the Off West End Theatre Awards for Afterglow at London's Waterloo East Theatre, and won the American National Opera Association's Best Production award for Anton Rubinstein's The Demon at Boston's Cutler Majestic Theatre.
To purchase tickets, please go to the following link: https://www.stream.theatre/season/103
Critical Praise for Rocky Road:
The Guardian: "A fine example of onscreen theatre wrought with the suspense of live drama and employing the aesthetics of film." ★★★★
The Upcoming: "An intensive thriller that hits all the right notes" ★★★★
A Younger Theatre: "This is one that will keep me thinking for weeks to come" ★★★★
North West End: "Clever, emotional, disturbing and intense" ★★★★★