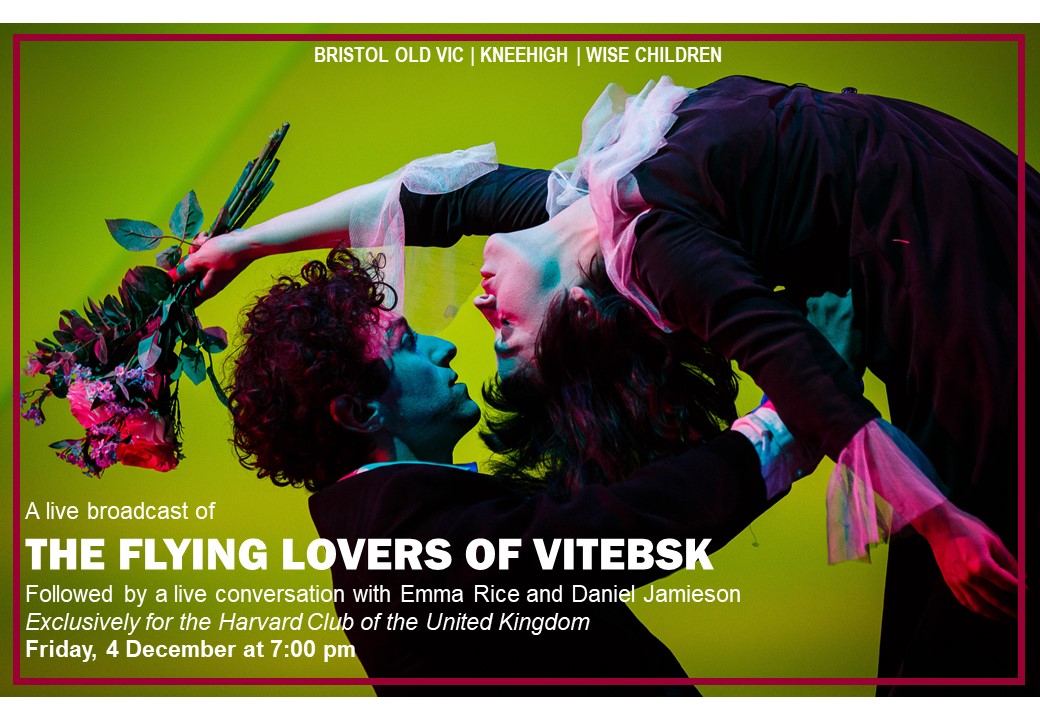 Bristol Old Vic | Kneehigh | Wise Children
present
Kneehigh's
The Flying Lovers Of Vitebsk
The Live Broadcasts
Written by Daniel Jamieson & Directed by Emma Rice
with Music from Ian Ross
★★★★
"Deeply personal and deeply felt… A whirl of colour and surreal humour."

After the heady success of the live broadcasts of Romantics Anonymous, Wise Children have teamed up with their friends at Kneehigh and Bristol Old Vic to bring you Kneehigh's award-winning production of The Flying Lovers Of Vitebsk directed by Emma Rice, LIVE ON STAGE at the Bristol Old Vic! Wise Children TV will bring this visually stunning, intimate and emotional production live into your home – each night will be a truly one-off experience! The company have been isolating together in one large bubble for the last two weeks so that the show can be performed in its original form. With no social distancing, you can expect something as magical as one of Marc Chagall's paintings, with singing, dancing and perhaps even a large blue fish!
Perhaps you've seen them floating over a Russian village? Or perhaps you've seen her toppling forward, arms full of wild flowers, as he arches above her head and steals a kiss.
Meet Marc and Bella Chagall—the flying lovers of Vitebsk! Partners in life and on canvas, Marc and Bella are immortalised as the picture of romance. But whilst on canvas they flew, in life they walked through some of the most devastating times in history.
Daniel Jamieson's The Flying Lovers of Vitebsk traces this young couple as they navigate the Pogroms, the Russian Revolution, and each other. Emma Rice's production is drawn in a theatrical language as fluid as Chagall's paintings, and woven throughout with music and dance inspired by Russian Jewish traditions. Winner of the Carol Tambor Best of Edinburgh Award 2017.
The Harvard Club of the United Kingdom is pleased to bring its members this special event followed by an exclusive interview and Q&A opportunity with director Emma Rice and writer Daniel Jamieson, immediately following the performance on 4th December (approximately 9:00 pm). Tickets for the play are £16 for each device streaming the performance purchased before 30 November and £20 thereafter, and are available to purchase here directly from the theatre (not HCUK):
https://wisechildren.ticketco.events/uk/en/e/the_flying_lovers_of_vitebsk__friday_night
Tickets for the interview and Q&A need to be purchased separately via "Click here to buy tickets" button below and are FREE for members; £5 for non-members (including HBS). Any proceeds from these ticket sales will be split between HCUK's charitable subsidiary and the School for Wise Children, Emma Rice's new training programme for ensemble theatre makers. We will send a Zoom link for registered attendees.