Annual Harvard vs Yale Mixed
Soccer Game
and
Post-Match Drinks 2019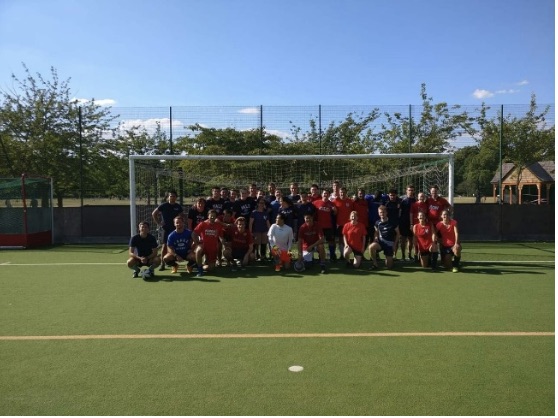 The annual summer Yale vs. Harvard mixed
soccer game in Battersea park,
followed by a combined Yale-Harvard
post-match drinks
at a nearby pub.
Saturday, 20 July 2019
2:45 pm to 6:00 pm

Battersea All Weather Sports Ground
Battersea Park, Albert Bridge Road, London SW11 4NJ


About the Event:
The (soccer) Game is back! Come out and play and support your fellow Harvard teammates in the annual Harvard vs. Yale clubs of London soccer match. It is a full 90 minutes match on the Battersea all weather pitches, and we need all the turnout we can get – players of all levels are very welcome. Supporters are encouraged to come and cheer your fellow Harvard teammates on from the sideline!
After the match there will be a joint Harvard/Yale drinks at a local pub (location tbc), all supporters and friends are welcome.
Players and supports are encouraged to wear as much crimson as possible, and bring along any Harvard gear to help the cause!
According to the rules of the all-weather pitch, no football boots are permitted: no moulded, no bladed, and no studs.
Registration:
To register to play, please fill out this Google form with your name, email, preferred position(s) and/or willingness to referee, and any questions.
Directions:
Sun Gate is the best place to be dropped off because of the Formula E race track being built (many areas are restricted). It's then a short walk due east to the ground. The gate is situated at the junction of Albert Bridge Road & Prince of Wales Drive, and is a pedestrian gate only. The post code is SW11 4NJ as most taxis now use it.
Postal address - All Weather Sports Ground, Battersea Park, Albert Bridge Road, London SW11 4NJ.
1. Train
a) Battersea Park Station: Served by trains from London Victoria, London Bridge and Clapham Junction.
b) Queenstown Road Station: Served by trains from London Waterloo and Clapham Junction, both stations are approximately 5 minutes walk from the park.
2. London Underground
a) The nearest station is Sloane Square (District & Circle Lines) approximately 20 minutes walk, or bus 137.
3. Buses
a) Battersea Bridge Road: Buses 49, 170, 319 and 345. Alight at junction with Westbridge Road. Approximately 5 minutes walk.
b) Battersea Park Road: Buses 44 and 344. Alight at any stop between Albert Bridge Road and Queenstown Road. Less than 5 minutes walk.
c) Queenstown Road: Buses 44, 137, 452. Alight at Battersea Park Road for southern part of park. Less than 5 minutes walk.
Hope to see you on the field!
-The Harvard Young Alumni of the UK