The HCUK would like to invite you to the

Premiere

of a new London Children's Ballet production based on Oscar Wilde's The Canterville Ghost.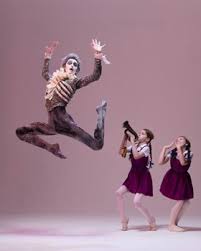 This is a special event for the family and takes place at 6:30PM on Thursday 19 April at the Peacock Theatre. The HCUK have reserved a block of 20 seats (priced at £45 each) for our members to sit together for the performance and to socialise at the champagne reception and intermission.
London Children's Ballet is a performance company that creates wonderful, uplifting ballets for a family audience in the West End. The company is made up entirely of exceptionally talented dancers aged 9-16. Performances are accompanied by a live orchestra. They are suitable for children aged 4 and up and they are crafted to blend beautiful ballet with drama and humour to keep girls and boys and parents engaged throughout.
LCB is a charity and runs dance outreach programmes that help some of London's most disadvantaged young people and isolated elderly to access the arts. This short film shows a bit more about what they do: https://www.youtube.com/watch?time_continue=8&v=fQBQ96OXuBk
Premiere Evening
Each year, the opening performance of the new ballet is a particularly special affair, with a champagne reception, lots of dancers from the Royal Ballet in the audience, a chance to meet the cast, party bags for children etc. On the Premiere evening, the theatre waives its commission and all income from ticket sales for the Premiere goes to support the charity's year-round work. Ticket prices include the drinks reception and children's party bags.
The Canterville Ghost
Oscar Wilde's The Canterville Ghost is a humorous story about an American family that moves into a stately home. Instead of being afraid of the resident ghost, two very naughty twins torment him. It is both beautiful, touching and funny.
The Canterville Ghost will run at The Peacock Theatre from
19th – 22nd April
.
HCUK Tickets
Please click on the link below to purchase Premiere tickets for the HCUK block priced at £45 each. LCB performances have been selling out every year and the Premiere is particularly popular.
Please note that more expensive tickets priced at £70 and £100 are still available for the Premiere. We have not reserved these seats. If you are interested in the more expensive categories, please email Verity Langley (vll@me.com) and we can look into reserving an HCUK block in these sections.